Dreams come true
Sunday, February 3, 2008
Have you ever dreamed of something that you thought would never ever happen? but eventually it happened?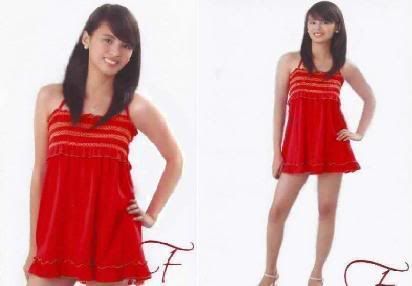 I thought being a model was just one of my hard-to-reach dreams. Who would have thought that a regular teenage girl would get the chance to be a model? It was undoubtedly one of the best things that ever happened to me. In my case, it was truly unexpected.
I was browsing my friendster when I saw my former classmate in high school in the recent updates. I saw her pic, and it was really intriguing because her pic wasn't the usual type of pictures that people put in their friendster account. Her pic was a studio pic and she really looked pretty then I read the captions, "One of my dreams came true, Im a model now". I browsed her friend list and I saw "Fashionsense Models". I clicked it and the shot-out says "Do you have what it takes to be a model? Send your name, address, height, vital stats to this number ----". Then something came into my mind, I want to try modeling too. I texted the number and send my info's.
Unexpectedly, I received a text message last January 7. Its says, "Tomorrow, We have a screening for new batch of models at Brgy. Dela Paz, Marikina City. Please bring shorts and 5 inches stiletto". OMG, I cant believe it. I quickly went home. My confidence was high enough even though I knew I'd be up against some other pretty girls who would also try their luck.
On the day of the screening, I woke up so early choose some good clothes and dab some make-up on my face. I had to be on the venue for the screening at 9 o clock am. When I finally got there, I saw the other models. Some of them are so pretty, have radiant white skin and a very clear skin. I felt like I want to back-out but I just boosted up my self confidence. Later on the director called my name and then he asked me to walk in the runway. OMG, I really felt nervous that time. I committed some mistakes while walking like swaying my arms and smiling. A ramp model should have a serious face while walking. But they said that was ok because it was my first time.
At around Five o clock in the afternoon they announced the names of the girls who passed the screening. I cant believe it when they said "Sarah Manlambus". I was like "OMG, I cant believe it" I thought I heard it wrong. It was like winning in a beauty contest. haha
This experience has made me believe that anything is possible. I never really believed that those things really happen and we just tend to think we don't stand a chance of making them come true. And look what I was able to get!
So, to every girls out there, try your best to reach your dreams. c:
4 Comments

4 Comments:
Subscribe to Post Comments [Atom]