The Covergirl
Monday, September 24, 2007
Everyone has to admit that somewhere in the deepest part of their heart, they want to be known for something grand. As for me, I want to be a cover girl of a magazine. I think every girl who has bought a magazine has dreamed of what it would be like to have her face on the cover, selling thousands of copies through the power of her smile. But –sigh!- one look at the mirror and I'm convinced that I'll never make it on that cover or even just inside the magazine!
Hello! I'm not pretty as those girls who make it in the cover of a magazine and besides I have big scars on my knees because I'm clumsy and one of the requirements of being a model is to have a clear skin. But that detrimental fact won't stop me from dreaming, As a matter of fact I made something which can satisfy (somehow) my urge to be a cover girl of a magazine. Here it is..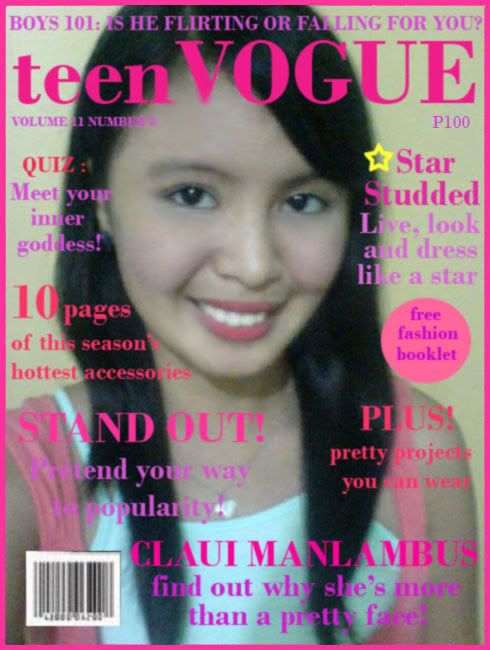 Haha! See! I may not necessarily be a cover girl material but I can pretend that I'm a cover girl. Heehee! And why bother to bewail if there are ways to be perfect as those PRETTY girls who make it in the cover a magazine! So I'll just keep on dreaming until the day my dream comes true Ü
Random things that people don't know about me
Tuesday, September 18, 2007
Oookay.. So I'm going to spill some secrets about me (am I serious?!). haha.
1. When I was a kid, Instead of playing Barbie dolls,
lutu-lutuan
or other stuffs that little girls play, I played
jolens, teks
and
pogs
. Can you believe it? I'm boyish when I was a kid. I admit that sometimes I do play those things that little girls play but I play those boyish games more often.
2. I am a mentally retarded person (what?!) *just kidding!*. haha. I'm sure that you're gonna agree with me once you got to know me or if you hang-out with me often. *ask my friends*. Ü
3. I am a non-stop talking machine. I talk almost about everything even if it doesn't have any sense.
4. I really hate frogs and toads. Eeewww! Because the frog's skin is so slimy and it looks wet while the toad's skin have bumps and warts. Eeewww! I just really don't like those creatures. I would die if someone would dare me to touch them!
5. I'm a sucker for love
6. I'm good at hiding my feelings
7. I'm a myrmidon of God. Although it's not obvious. Ü
8. I hate Math.
9. I talk to cats and dogs. haha.
10. I eat street foods like
calamares, kwek-kwek
and
isaw
.
There you go, a little dose of nonsense things about me. heehee. Wait I'm not done yet..
Yesterday when I was about to eat breakfast, I have noticed that the ketchup and the rice on my plate was heart shaped. take a look.
Amazing! isn't it? haha. I didn't do that on purpose. SWEAR! I was surprised when I looked at it. Hmmm.. what does it mean? Ü
CITE day
Sunday, September 16, 2007
sorry for the late post.. *sigh*
Last September 11, 2007 was our CITE day. Yipee!. Supposedly, we don't have classes on that day because our college will held a program for us, CITE students but before that day our Professor in physics told us that were going to have classes! geez!
KJ talaga!
and I hate it! wanna know why? because our physics class starts on 7:30 AM and that means I need to wake up early.
katamad. Tapos ang pangit pa nung college shirt namen. (anong konek?)
:(
Yun,
I have no choice. On that day,
nung nasa room na kami,
our professor announced that were not going to have classes and he's only checking our attendance! WTF!
sayang ung
effort
ng pagpunta namin ng maaga sa
school. seesh!
So, after that my girlfriends and I went to Trinoma*. We did nothing but to explore the mall, burn our cash and take pictures. We were like crazy prancing around the mall. haha.
Napagod ako kakalakad.
We stayed there for almost 4 hours, walking and window shopping.
Sino ba naman ang hindi mapapagod diba?
after that, we decided to go to SM North Edsa but unfortunately, it's raining so we decided to go back in cubao and go to gateway instead because it's the nearest mall from our school (talk about mall hopping.. haha) I spent the whole day going to malls. What the heck!
It's almost 5:00 pm when we went back to school. but I just stayed there for 30 mins.
pinanood ko lang yung
band after that I went to Robinsons Metro East because I'm going to meet up with Bernard.
nagpa-burn kase siya ng cd saken. (kailangan talaga sa mall pa ibibigay ung cd?) haay, ka-chorvahan talaga.
haha. Again,
nilibot lang din naming dalawa ung
mall
tapos kumain kami.
After that long, tiring day, I went home. When I took a glimpse of me at the mirror, I look super WASTED
na. Mukha akong manananggal.
as in. haha.
All I can say is, I'm such a waste! because of the nonesense things that I've done that day.. haha.. but who cares?! XD
Missing Highschool
Thursday, September 13, 2007
I remember my good old days when I was in high school. Being in College was so different. Way back in high school, I had all my classes in one classroom, ate recess at the canteen, and studied for a quiz only after my teacher had discussed the topic. Our classes starts at 12:20 PM, that's why we don't need to wake up early and yes, we can go to school without doing our homework because we can do it in school before our classes starts. I miss all the things that I used to do in high school especially when I was a senior student. I can say that all of the good and best memories in highschool happened when I was in Fourth year and I didn't expect that.
Umiiyak pa nga ako nung
First day of classes because my best friends was enrolled in another section and I was left alone. I was intimidated. For me it's unusual to be alone. I don't have someone to talk with or go to the canteen with although some of them was my classmates when I was in Third year. Duh!
Hindi ko kase sila ka-close
but hey, that's life and I cant always stay with my best friends forever, so I just need to accept the detrimental truth. So time passed by and I get used to my classmates and
yun naging ka-close ko din sila.
I can still remember all of the crazy stuff that we used to do like rushing to the library after we arrive to finish our homework especially in Drafting. We are such an irresponsible students but that's one of the things that we usually do. Even students in other schools do that. Yeah, Going to school without having our homework done. What a nice thing to do. Harhar.
Nagkokopayahan pa nga kami
when we have quizzes or seatwork but I think that's a part of being a student. Haha. But the most terrible thing that we did was the "leakage" thing during our finals exam. I don't know if my classmates could forgive me for spilling this. Haha. We did that through text, passing the answers to everyone. It's possible for us to do that because most of us have cellphones. But when we got the results, geez! Even if we didn't cheat, we would still get the same results so the leakage was useless to some of us but I can say that some of our classmates passed the examination because of the leakage. Really terrible right?! Haha.
Ganun kami ka-close lahat. Nakikisakay bawat isa sa lahat ng trip
. We were so very united that no one can ever divide all of us.
I really want to go back in high school if I could. I want to be with my high school
barkada.
I miss our bonding session. I miss our
"tambayan"
at the college building, playing hide and seek after our classes. Going to the malls right after our examination or just stay at school then go to our
tambayan
to play truth or dare. I miss all the stupid but enjoyable things that we use to do. I really do.
High school already seems so far away but all of our good memories will stay in my heart forever.
Confessions of an ugly duckling
Tuesday, September 4, 2007
I remember when I chanced upon our old photo album -- the ones that had my childhood pictures in them and in it I found something so distrubing. I closed it and instinctly shoved it back in the farthest corner of the cabinet.

On the flap was what had to be the worst picture of me. Bad hair, goofy smile, bad outfit -- it had to be some camera fluke. I SO did not look like that. In an attmept to redeem myself, I browsed through the pages of my photo album from grade school and there they were: Dark complexion, bad smile, Coarse and wavy hair. It was an epiphany that threatened to change my life: sad to say but, I was not a very good looking Kid.

All of a sudden, the mysteries of my childhood were puzzles no more. Why would boys always play touchball with me but never apologize if they hit me too hard with the ball or treat me after the game like they did for my long-haired and pretty classmate.

The funny thing is, I only had the best memories of my childhood. I was active in a lot of clubs, played a lot of sports and was recognized for my talents. But upon seeing my childhood photos, I suddenly felt abashed even cheated. I wonder if my pretty classmates would talk and laugh about how i look. I wonder if the boys I played with ever laughed at me behind my back.

It was when I was in junior highschool, I looked at the mirror and said "I think it's time for a change". I decided not to be the girl everyone would forget as soon as they step out of highschool and prove that I can be somehow, one of the "It" girls on campus. It was then that I discovered "I can be pretty" somehow and all I need is a little improvement.

Time passed by and little by little, I finally outgrown that akward, boyish girl with a bad look. I realized that I'm not an ugly duckling that turned into a swan but a girl who realized that she's beautiful after all.

Nowadays, I don't shy away from cameras anymore -- In fact, I want to take pictures of myself as many as I can.