im not a girl anymore but not yet a woman.
Thursday, February 28, 2008
*its my 18th birthday*
Finally, after seventeen years, comes the moment of reality to say farewell to childhood days and dreams but never goodbye for I will still look back to these memories which helped me to become what I am now.
It is time to lead my life towards maturity where decisions are not made for me but by me and towards adulthood, where bigger challenges and greater ambition awaits me.
Thank you Lord for the gift of life you bestowed upon me and for the opportunity for experiencing the wonders of your creations. Thank you for giving me my parents as your instrument in molding me according to your will.
for my blog-viewers and co-bloggers, ill post my pictures on multiply / friendster.
just wait for it. my party will be on saturday, March 1. c:
Liham ng mga magulang para sa anak
Tuesday, February 5, 2008
Mahal kong anak,
Sa aking pagtanda, unawain mo sana ako at pagpasensiyahan.
Kapag dala ng kalabuan ng mata ay nakabasag ako ng pinggan o nakatapon ng sabaw sa hapag kainan, huwag mo sana akong kagagalitan.
Maramdamin ang isang matanda. Nagse-self-pity ako sa tuwing sinisigawan mo ako.
Kapag mahina na ang tenga ko at hindi ko maintindihan ang sinasabi mo, huwag mo naman sana akong sabihan ng 'binge!' paki-ulit nalang ang sinabi mo o pakisulat nalang.
Pasensya ka na, anak. Matanda na talaga ako.
Kapag mahina na ang tuhod ko, pagtiyagaan mo sana akong tulungang tumayo, katulad ng pag-aalalay ko sa iyo noong nag-aaral ka pa lamang lumakad.
Pagpasensyahan mo sana ako kung ako man ay nagiging makulit at paulit-ulit na parang sirang plaka.
Basta pakinggan mo nalang ako. Huwag mo sana akong pagtatawanan o pagsasawaang pakinggan.
Natatandaan mo anak noong bata ka pa? kapag gusto mo ng lobo, paulit-ulit mo 'yong sasabihin, maghapon kang mangungulit hangga't hindi mo nakukuha ang gusto mo.
Pinagtyagaan ko ang kakulitan mo.
Pagpasensyahan mo na rin sana ang aking amoy. Amoy matanda, amoy lupa. Huwag mo sana akong piliting maligo. Mahina na ang katawan ko. Madaling magkasakit kapag nalamigan, huwag mo sana akong pandirihan.
Natatandaan mo noong bata ka pa? Pinagtyagaan kitang habulin sa ilalim ng kama kapag ayaw mong maligo.
Pagpasensyahan mo sana kung madalas, ako'y masungit, Dala na marahil ito ng katandaan. Pagtanda mo, maiintindihan mo rin.
Kapag may konti kang panahon, magkwentuhan naman tayo,kahit sandali lang. Inip na ako sa bahay, maghapong nag-iisa. Walang kausap.
Alam kong busy ka sa trabaho, subalit nais kong malaman mo na sabik na sabik na akong makakwentuhan ka, kahit alam kong hindi ka interesado sa mga kwento ko.
Natatandaan mo anak, noong bata ka pa? Pinagtyagaan kong pakinggan at intindihin ang pautal-utal mong kwento tungkol sa iyong teddy bear.
At kapag dumating ang sandali na ako'y magkakasakit at maratay sa banig ng karamdaman, huwag mo sana akong pagsawaang alagaan. Pagpasensyahan mo na sana kung ako man ay maihi o madumi sa higaan,Pagtyagaan mo sana akong alagaan sa mga huling sandali ng aking buhay. Tutal hindi na naman ako magtatagal.
Kapag dumating ang sandali ng aking pagpanaw, hawakan mo sana ang aking kamay At bigyan mo ako ng lakas ng loob na harapin ang kamatayan.
At huwag kang mag-alala, kapag kaharap ko na ang Diyos na lumikha, ibubulong ko sa kanya na pagpalain ka sana ...
Dahil naging mapagmahal ka sa iyong ama't ina...
Written by Rev. Fr. Ariel F. Robles
CWL Spiritual Director
St. Augustine Parish
Baliuag, Bulacan
***oh my gosh. i almost cried when i finished reading this message a while ago. My classmate Krisna forwarded this message to me in friendster. :'C
All of us wanted to have the perfect parents. The kind of parents who agrees with everything we said. The one who will always allow us to go out with our friends and party till dawn. The kind of parents who will not stop us from doing stupid things that we want. but try to think, our parents also wished for a perfect child. A child who will never give them heartaches or a child who will always listen to what they say.
I wish everyone knows that everything not to mention the yells and all those things that our parents always tell us was for our own good.
*sigh* Mama, Papa.. sorry if im not the perfect child that you were wishing. Im sorry for all the heartaches that ive gave you before. Im sorry for not listening to you most of the times. Thanks for being patient and understanding. Thank you for loving me. I LOVE YOU MAMA AND PAPA.
Dreams come true
Sunday, February 3, 2008
Have you ever dreamed of something that you thought would never ever happen? but eventually it happened?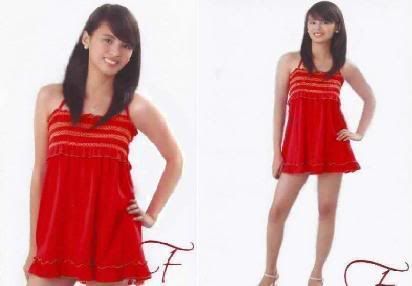 I thought being a model was just one of my hard-to-reach dreams. Who would have thought that a regular teenage girl would get the chance to be a model? It was undoubtedly one of the best things that ever happened to me. In my case, it was truly unexpected.
I was browsing my friendster when I saw my former classmate in high school in the recent updates. I saw her pic, and it was really intriguing because her pic wasn't the usual type of pictures that people put in their friendster account. Her pic was a studio pic and she really looked pretty then I read the captions, "One of my dreams came true, Im a model now". I browsed her friend list and I saw "Fashionsense Models". I clicked it and the shot-out says "Do you have what it takes to be a model? Send your name, address, height, vital stats to this number ----". Then something came into my mind, I want to try modeling too. I texted the number and send my info's.
Unexpectedly, I received a text message last January 7. Its says, "Tomorrow, We have a screening for new batch of models at Brgy. Dela Paz, Marikina City. Please bring shorts and 5 inches stiletto". OMG, I cant believe it. I quickly went home. My confidence was high enough even though I knew I'd be up against some other pretty girls who would also try their luck.
On the day of the screening, I woke up so early choose some good clothes and dab some make-up on my face. I had to be on the venue for the screening at 9 o clock am. When I finally got there, I saw the other models. Some of them are so pretty, have radiant white skin and a very clear skin. I felt like I want to back-out but I just boosted up my self confidence. Later on the director called my name and then he asked me to walk in the runway. OMG, I really felt nervous that time. I committed some mistakes while walking like swaying my arms and smiling. A ramp model should have a serious face while walking. But they said that was ok because it was my first time.
At around Five o clock in the afternoon they announced the names of the girls who passed the screening. I cant believe it when they said "Sarah Manlambus". I was like "OMG, I cant believe it" I thought I heard it wrong. It was like winning in a beauty contest. haha
This experience has made me believe that anything is possible. I never really believed that those things really happen and we just tend to think we don't stand a chance of making them come true. And look what I was able to get!
So, to every girls out there, try your best to reach your dreams. c: